Villager
Posts: 18
Joined: Mon Nov 02, 2020 20:14
Location: Telford, England
Plugins: Show
I have seen people make maps with like 250 slots in a region in online mode, how do I make these?
❤

roblox hotels be like: get noob

❤
RED SUS
JOIN TT COUNTRY RP https://discord.gg/SgtQEZ2cck!!!
---
AB
Posts: 8960
Joined: Tue Jun 07, 2016 21:12
Plugins: Show
Version: Beta
Study the tutorials on the sublect.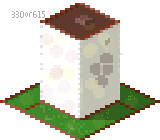 ---