Settler
Posts: 1
Joined: Wed Dec 16, 2020 16:00
I have a question about something in the build menu. In Public>Decorations there is a tile build called "Game of Life". What is it for? I have tried to figure it out, but I can't. Can anyone help me?
---
AB
Posts: 9119
Joined: Tue Jun 07, 2016 21:12
Plugins: Show
Version: Beta
https://youtu.be/dgKkfKWNDZ0
Go to the link/app for info.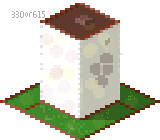 ---
Inhabitant of a Megalopolis
Posts: 716
Joined: Wed Oct 24, 2018 13:41
Plugins: Show
Basically, there was this guy called John/James Conway, and he made a bunch of rules with these cells (tiles in this game). White means that this cell is alive, black means it's dead. A black cell can become living by being in contact with 2-3 white cells, and a white cell can die if it's touching 2 black cells. Butchered the rules, but that's the essence of his game. Now, the game of life in this game is just sort of a demonstration of what a person can do with fun and to demonstrate it's functionality
I have no clue what's happening this year
---