Villager
Posts: 15
Joined: Fri Jan 10, 2020 21:10
Plugins: Show
---
AB
Posts: 8778
Joined: Tue Jun 07, 2016 21:12
Plugins: Show
Version: Beta
That's beautiful!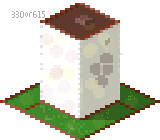 ---
Settler
Posts: 1
Joined: Sat Jan 11, 2020 20:11
Plugins: Show
Nice on the detail i like how the colors like the color with the land looks great with the color of the buildings.
---
Inhabitant of a Planet
Posts: 1300
Joined: Sun Dec 10, 2017 22:09
Location: Turkiye
Plugins: Show
Why can't I see the screenshot?

The Internet Addict
I can't define my self time to time... Just do not %100 trust me. Texting that honestly...
Know your friends well, enemies
---
AB
Posts: 8778
Joined: Tue Jun 07, 2016 21:12
Plugins: Show
Version: Beta
---