---
TheoTown Veteran
Posts: 8244
Joined: Tue Oct 25, 2016 15:20
Location: Johor Bahru
Plugins: Show
Version: Beta
Contact:
There's a Giant sized map which is 4x larger than Huge, and it's still in experiment.

BTW, I highly NOT RECOMMEND you to use it, since it's so big that it needs lots of RAM and would cause low performance on your device. I've tried it, it lags then the game crashes.
---
Inhabitant of a Megacity
Posts: 203
Joined: Wed Jan 18, 2017 14:36
Location: Cemetery but not dead
Plugins: Show
Version: Beta
Don't try Giant maps on slower devices bcs it there is a big chance of crashing your game
I'm using faster phone and it doesn't drain battery that fast but also it lags but only for a split second

I like pineapple pizza
but I don't like pineapple on it
---
---
AB
Posts: 9121
Joined: Tue Jun 07, 2016 21:12
Plugins: Show
Version: Beta
Giant mode runs well for me. It will crash when saving for me if I get too ambitious with building a section of the city. I am trying to fill it completely. Over 570,000 residents most sucessful saves. Will probably fill with farmland.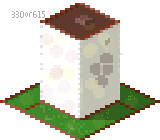 ---
---
---
The Theo in TheoTown
Posts: 821
Joined: Thu Jan 24, 2008 14:11
Location: Ruhrgebiet
Plugins: Show
@LukasMelbourne
@WNKK
I really like your two cities

Great work

The box label said, "Requires Windows 10 or better.", so I bought an Amiga Computer.
---
Settler
Posts: 6
Joined: Mon Jan 30, 2017 1:34
Location: Saskatchewan, Canada
Plugins: Show
LukasMelbourne wrote:

Map: giant population: 125k
What's the seed?
---
---