---
AB
Posts: 9126
Joined: Tue Jun 07, 2016 21:12
Plugins: Show
Version: Beta
Build roads.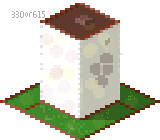 ---
Okay there ara 3 type of road. Slow(dirt), fast and one way.
Use dirt for the town if you're just starting a new game. Start building better roads for dense area. One way road is a good way to solve your industrial zone. And also use train and build bus depot. Aaannddddd don't forget to decor the road sometimes

.
i'm not good using my own grammar. See why?
---