Moderator: Plugin Moderators
Inhabitant of a Universe
Posts: 4263
Joined: Thu Sep 14, 2017 17:30
Location: Astrellia, UHAE
Plugins: Show
Version: Beta
The tittle say everything, I need help because idk what to use except paint.Net
Emperor of Atlantean federated empire
Founder state of Internationxal council
Leader of AEOY and steel pact
---
enjenir
Posts: 2982
Joined: Sun Jul 23, 2017 12:45
Location: Easter Island
Plugins: Show
---
Online
AB
Posts: 8960
Joined: Tue Jun 07, 2016 21:12
Plugins: Show
Version: Beta
I use Novix for anything exact. It's great at resizing images. You just type in numbers.

I use Pixly if I need to import frames into an image or to copy and paste.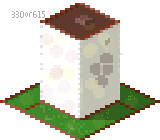 ---
---
Inhabitant of a Megalopolis
Posts: 747
Joined: Mon Jun 25, 2018 15:38
Location: Normandy
Plugins: Show
Version: Beta
<Inhales> just read messages from the thread .....
#ITTSTBPI
Hello , i'm a French former plugin creator from the beautiful Normandy Region

I try to propose a large variety of quality plugins !
If you don't like my plugins , don't use them !
---