Moderator: Plugin Moderators
Former zFlamee
Posts: 59
Joined: Mon Oct 01, 2018 4:56
Location: Rio de Janeiro
Plugins: Show
Version: Beta
Every time I go in to collect my diamonds, my plugins have some reports, and many are "bullshit". Follows screenshot below ... Is it normal?

---
AB
Posts: 8822
Joined: Tue Jun 07, 2016 21:12
Plugins: Show
Version: Beta
Pretty much. The Zootopia was put on a lot of plugins. Maybe try a version with less color saturation.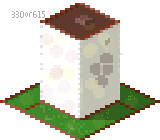 ---