Villager
Posts: 22
Joined: Sat Jan 25, 2020 6:19
Location: Philippines
Plugins: Show
Version: Beta
Contact:
Type Train have 8 frames

How about type car[attachment=0]Screenshot_20201227-143858_Pixly.jpg[/attachment]
---
interestingly, I think it will be much better if it is .
I live in Russia, but I am not Russian.





Я Живу в России, но я не Русский.
Republic Of Siste-Alheims .
Capital City: Alekseevskoe.
Continent: Asia .
Official language: Russian, Tatar .
---
Inhabitant of a Conurbation
Posts: 442
Joined: Sun Oct 27, 2019 2:39
Location: what's this stalker stop asking me XD
Plugins: Show
Version: Beta
Maybe they should add a line of code to allow that.
youtube: curtis warren btw stop begging
---
---
AB
Posts: 9271
Joined: Tue Jun 07, 2016 21:12
Plugins: Show
Version: Beta
It has been added, but most cars are still 4 frames.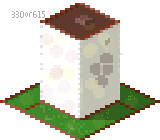 ---
Neighborhood fox
Posts: 2457
Joined: Thu Aug 24, 2017 11:17
Location: Wants to be in Tokyo
Plugins: Show
Version: Beta
Contact:
Link to tutorial on how to code it?
知りません
---
I just love the DOPE-amine you get after completing a plugin!
---
---
Rip-off engineer
Posts: 3114
Joined: Sun Jul 23, 2017 12:45
Location: Easter Island
Plugins: Show
You would just set "frames per variant" attribute to 8 and provide those 4 additional diagonal car frames.

Available from 1.9.66
---