Moderator: Plugin Moderators
---
---
Townsman
Posts: 90
Joined: Tue Jul 04, 2017 13:50
Location: TheoTown,Military HeadQuarters
Plugins: Show
Great!
Whats up?
Member of
R.M.C
Hates
vegetables.
-Likes TheoTown

-Still have questions

-Deals with money

-Started with making plugins
---
---
AB
Posts: 9263
Joined: Tue Jun 07, 2016 21:12
Plugins: Show
Version: Beta
former member

wrote:

↑

Fri Jul 07, 2017 14:06

Do they stop cars or are just decoration?

Cause I wanted one that stops cars and lets them go like a normal traffic light .
I built a road that doesn't allow vehicles on it to place a traffic light there. Traffic would be terrible at the alley intersection if this road allowed vehicles. It will not stop the alley traffic, still just for show. I set the green and yellow phases equal to make it look like a yellow red flasher warning light.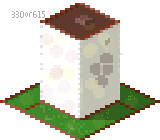 ---