Moderator: Plugin Moderators
Forum rules
For Residential plug-ins
Townsman
Posts: 63
Joined: Tue Jun 05, 2018 13:54
Location: Berlin, Germany
Plugins: Show
Version: Beta
---
AB
Posts: 9242
Joined: Tue Jun 07, 2016 21:12
Plugins: Show
Version: Beta
I added a car that picks up garbage and let the game decide the number of inhabitants to the json. So now it has 7. I changed the id, so no need to remove the other one.
Oh, the cars look like red dots

Credits: SomeGermanGuy for basic json and Tree house image.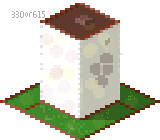 ---