Moderator: Plugin Moderators
Online
AB
Posts: 9242
Joined: Tue Jun 07, 2016 21:12
Plugins: Show
Version: Beta
How to make background transparent in Novix.
Last edited by
CommanderABab
on Sat Mar 11, 2017 18:22, edited 1 time in total.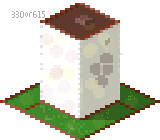 ---
TheoTown Veteran
Posts: 8246
Joined: Tue Oct 25, 2016 15:20
Location: Johor Bahru
Plugins: Show
Version: Beta
Contact:
That's a good solution...

But I'm still using MediBang, so that won't help me :|
---
Online
AB
Posts: 9242
Joined: Tue Jun 07, 2016 21:12
Plugins: Show
Version: Beta
OK, I've just resized this canvas and need to move the image down so that I can place a building atop the template.

1. Press the up arrow at the bottom.


2. Press Edit...


3. Press Shift (move the image).


4. Press the down arrow one at a time until the preview reaches the bottom. Then press OK.


5. Press the magnify icon and scroll to the bottom, zooming until the pixels are quite large.


6. One more pixel to go, repeat steps 1-5 :/.


Success!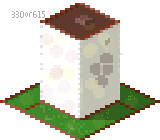 ---