Moderator: Plugin Moderators
---
---
---
AB
Posts: 9262
Joined: Tue Jun 07, 2016 21:12
Plugins: Show
Version: Beta
I like it! It looks very SW USA.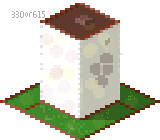 ---
Metropolitan
Posts: 129
Joined: Mon Dec 11, 2017 0:32
Location: San Diego, California, USA
Plugins: Show
Version: Beta
The peachish-light pink color is a nice touch.
I'm just a TheoTown user. I really don't want to put a lot here. But im on the TheoTown Discord with the same username if you wanna talk.

Youtube:
https://www.youtube.com/channel/UCi51Ih ... subscriber
---