Moderator: Plugin Moderators
Finally, I've completed this plugin! It's a pack containing: its own category, 3 decorations, 2 religious buildings, a mash up of 10 residential/commercial and industrials, a fire department/police department/hospital, a water tower and a generator. This doesn't sound like much but I'm rather happy with it. Let me know if there are any issues, specifically with my category as it's my first time coding a category.
Loyal Pastafrian
---
Online
AB
Posts: 9106
Joined: Tue Jun 07, 2016 21:12
Plugins: Show
Version: Beta
They seem a bit dark.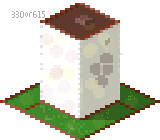 ---
---
Townsman
Posts: 44
Joined: Tue Oct 30, 2018 2:29
Location: the deepest pit of hell, helltower final stage
Plugins: Show
Version: Beta
Contact:
I can't believe they made ghost town from tf2 mann vs machine into a real thing!
My quest is to make quality plugins for the cheapest possible, I don't see why something that cost me 0 dollars to make should cost someone else's diamonds


---